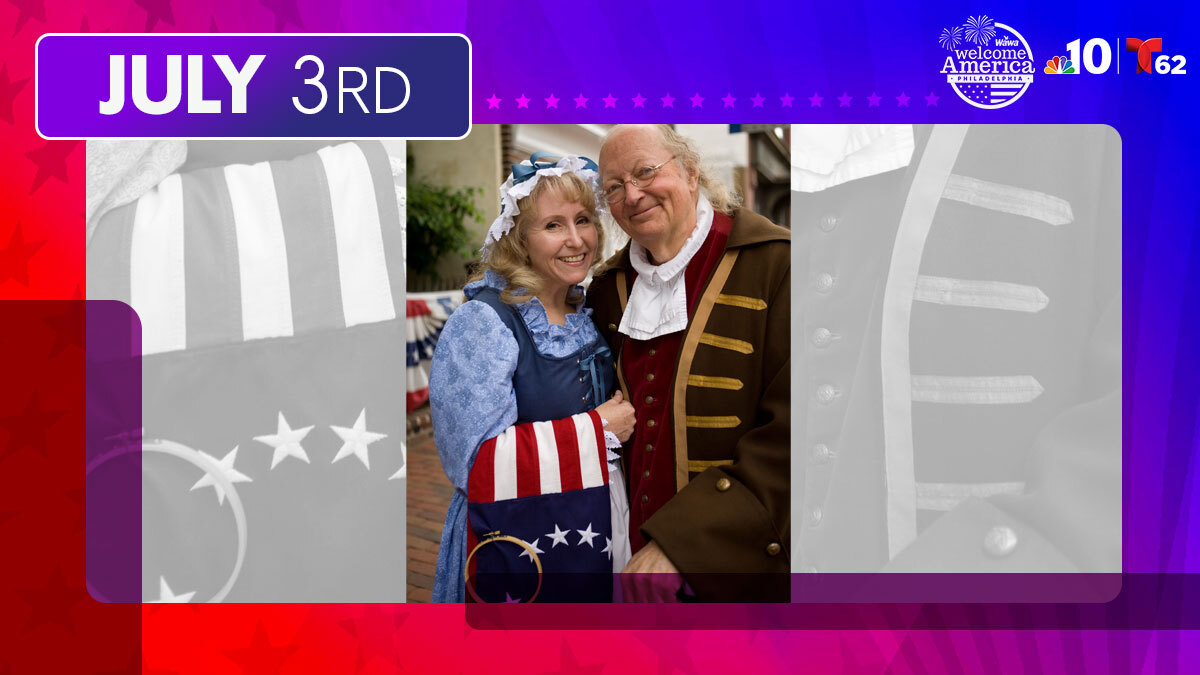 Wawa Welcome America Presents Historic Adventure, Music Patrol & Esports Tournament – NBC10 Philadelphia
[ad_1]
The Wawa Welcome America festival was in full swing on Friday July 3! Here are the links to the best events of the day. Remember, if you're partying at home or in the garden, we want to see your photos of what # July4thPhilly means to you – just share them on Twitter or Instagram! And don't forget to check out our Wawa Welcome America filter on Facebook, Instagram, and Snapchat.
MUSEUMS OF THE DAY
This year for Wawa Welcome America, the African American Museum in Philadelphia invites you to reflect on the meaning of independence. How do you define independence for yourself and how does it apply to your community and country? To commemorate Independence Day, the African American Museum in Philadelphia draws inspiration from the wise words of Frederick Douglass in his 1852 speech: "What is the Negro on July 4th?" Hear reader Carlo Campbell recount one of Douglass' most powerful speeches. Plus, check out their new Audacious Freedom cryptograms and word searches to train your brain on black history facts and figures.
The Barnes Foundation's new YouTube series, Barnes Takeout: Your Daily Serving of Art, features curators, academics and educators sharing improvised thoughts on their favorite works from the collection. On July 3 at noon there was a special episode celebrating Independence Day featuring Seascape by Philadelphia native William Glackens with Six Bathers, Bellport. Subscribe to Barnes' YouTube channel to receive daily #BarnesTakeout alerts.
Virtual tour of the Barnes collection on YouTube
Barnes Foundation guide Penny Hansen gives a taste of visiting the world-famous Barnes Collection. We can't wait for you to experience the collection in person!
Barnes Art Adventures
Originally broadcast live, this interactive educational program – for students in Grades 3 and up – encourages students and adults to move, play and create while learning art from home! In each episode, guest artists lead projects inspired by works in the Barnes collection, from Picasso's acrobats to Degas' dancers.
Radio reading of the Declaration of Independence
July 3 @ 11am
The National Liberty Museum hosted an Independence Day launch event with a broadcast of the Declaration of Independence. Our colleagues in Philadelphia have read our founding document. Explore our website and virtual programming to see how ordinary people can be heroes.
A state of independencee
July 3 @ 3pm
Costantino Spinosa from the National Liberty Museum offered a unique look at the origins of the state of Pennsylvania.
At the Betsy Ross House, the First Lady of the Stars and Stripes prepared for Independence Day and shared the story of her flag-making skills that inspired General Washington's famous visit in 1777.
Music Play Patrol has shown you how to have fun interactive music using items from your house. Go wild to the sounds of pots and pans, buckets, straws and more. Tune your vocal cords and get ready to sing along to a modern take on some of your favorite childhood tunes!
Bear crossed the mountain with a musical patrol
SPORT 3 OF 3
Register and score the winning goal on the last day of our esports tournament. Registration is free at Lobby.gg.
For this uniquely American celebration, the POPS took a musical look at tradition and patriotism. In his early days as Music Director and Principal Conductor, David Charles Abell created an original show with Allison Blackwell, a Philadelphia native and Broadway star, acclaimed trumpeter and POPS artistic director for jazz, Terell Stafford and Michael Cavanaugh. , favorite of POPS fans. This virtual concert stream included a newly commissioned piece, "Fanfare for the Essential Workers," dedicated to healthcare workers who were the first responders to the COVID-19 crisis.
[ad_2]