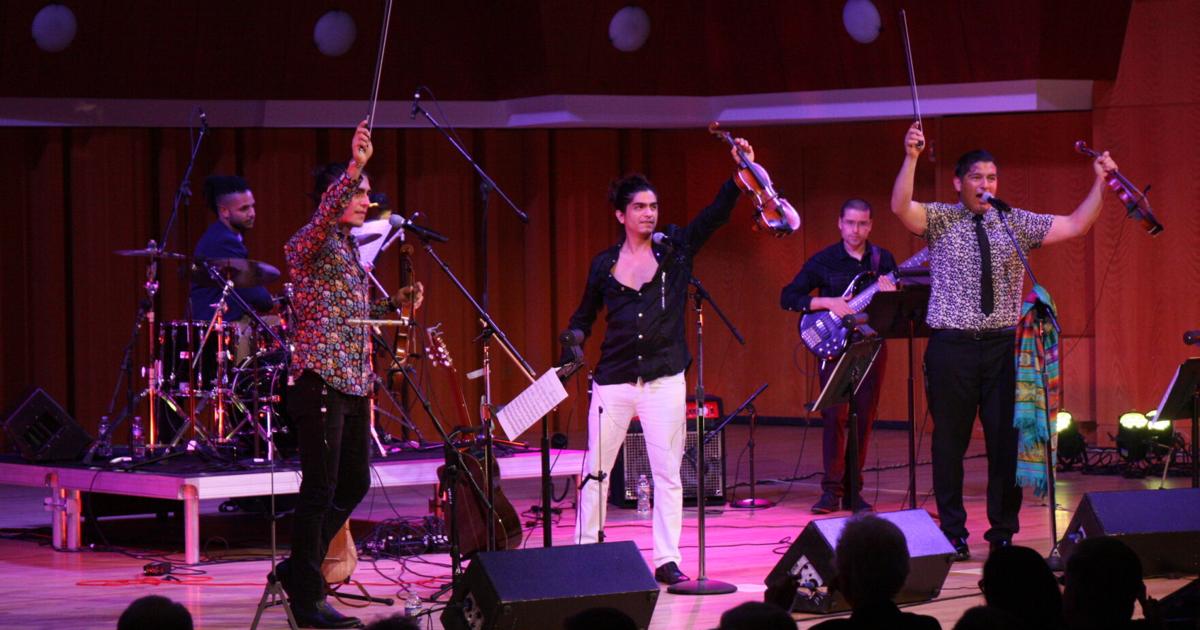 The Villalobos brothers celebrate family through music at UGA | Arts & Culture
"El Ausente" or "The Absent".
It's the name of one of two songs with which the Villalobos brothers opened their first concert at the University of Georgia's Hugh Hodgson Concert Hall on Wednesday night.
Although it fell on one of the holidays, Alberto Villalobos said the concert was not intentionally planned as a celebration of Día de los Muertos, or the Day of the Dead. However, the three brothers – Ernesto, Alberto and Luis – and bassist Erick Alfaro, drummer Victor Pablo García and guitarist Sergio Ramirez performed several original compositions and arrangements to commemorate the party and honor those absent.
Día de los Muertos, originating in Mexico, is a celebration of life and death and is a way for families to remember their ancestors.
During the 90-minute broadcast, the Villalobos brothers dedicated two songs to "all the abuelitas," including their late grandmother. According to Alberto, their grandmother was one of their first fans and biggest inspirations.
"We've played with her many, many times," Alberto said.
She even got to perform alongside her grandsons during their surreal performance at Carnegie Hall in 2006.
"Having her on stage with us was truly a blessing because she passed away a few years later," Alberto said. "And I think every time we play, we remember our teachers, our family members, our mother. Every time we pick up an instrument, we are aware of that power and that responsibility.
For this band of brothers, family is everything.
Now recognized worldwide as one of the finest contemporary Mexican ensembles, Ernesto, Alberto and Luis Villalobos began their musical journey in Xalapa, Veracruz Mexico when their mother took them all to their first violin lesson.
From there, the brothers briefly went their separate ways, studying classical music at universities in New York, Belgium and Germany.
"At one point we were in different countries for a few years. And in 2006, we all got together in New York to start this adventure and this project together," said Alberto.
While studying at the Royal Conservatory in Brussels, Belgium, Alberto recalls learning pieces by Mozart and Beethoven while feeling homesick and melancholy for Mexican music.
"I would say I like playing folk music more in the traditional style, my brothers might like other types of music," Alberto said. "So we feed off of those different preferences and try to find, eventually, something that we all love and are all proud of."
The result – a blend of their classical upbringing and Mexican heritage that combines the traditions of Mexican folk music with jazz, classical, blues and pop.
The band's unique twist on the traditional fiddle is what continues to captivate audience members like UGA freshman and Spanish major, Kendall Smith.
"They added their own touch to [the typical concert hall violinist]. It was super nice and felt like I was on the streets of Mexico City," Smith said.
Smith lives in UGA's Mary Lyndon Spanish-speaking community and attended the event with her instructor, Reyes Baena. Baena and Smith agreed that the bond and talent shared between the brothers made the concert even more special.
"You could feel the love they all had for each other and for this passion. If you were [blindly] walking into this trio, you would already feel the brotherly love, the family ties," Smith said. "It was contagious. It was so beautiful."
Over the years, the Villalobos brothers have toured the world, visiting parts of Latin America, India, Russia, Canada and more than 30 US states, according to a press release from UGA Presents. Wednesday night marked the band's first performance at UGA.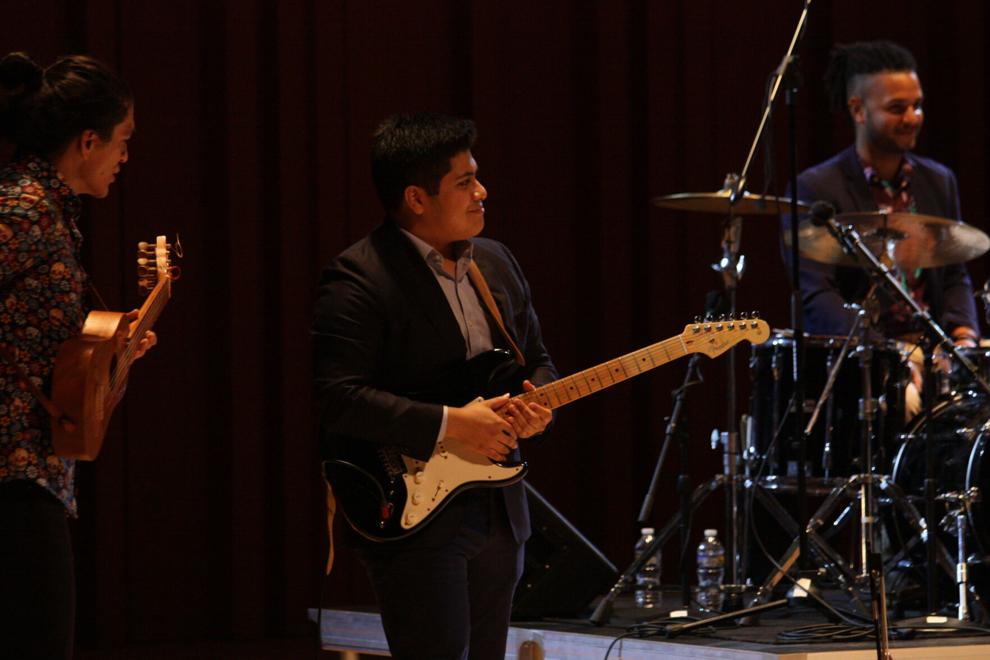 Although they sing mostly in Spanish, that doesn't seem to limit their audience's enjoyment.
"Music has this nature that sometimes touches your soul," Alberto said. "It doesn't matter if you sometimes don't understand what they are talking about or the language they speak. You can feel if there is a connection, if there is a common thread.
Alberto says they saw this connection through music by performing in countries like India or Russia, where no one understood Spanish. Many participants in Athens experienced this same connection.
As their performance began, one of the brothers asked the crowd how many people understood Spanish. While some hands went up and nodded, other audience members expressed that they couldn't.
Students in Baena's Spanish class, Tessa Cianfaglione, a freshman in International Affairs, and Anna Rose Powell, a Romance Languages ​​student, both commented that they always had trouble understanding Spanish lyrics. , but that it did not affect their level of pleasure.
"It's music, it brings everyone together. You don't have to know what they're saying to enjoy it," Cianfaglione said.
Powell added that it was still possible "to appreciate the culture without understanding a word of the music."
"I think [all the members of the band] agree that we have a responsibility, not just to ourselves, to represent our origin and culture," Alberto said.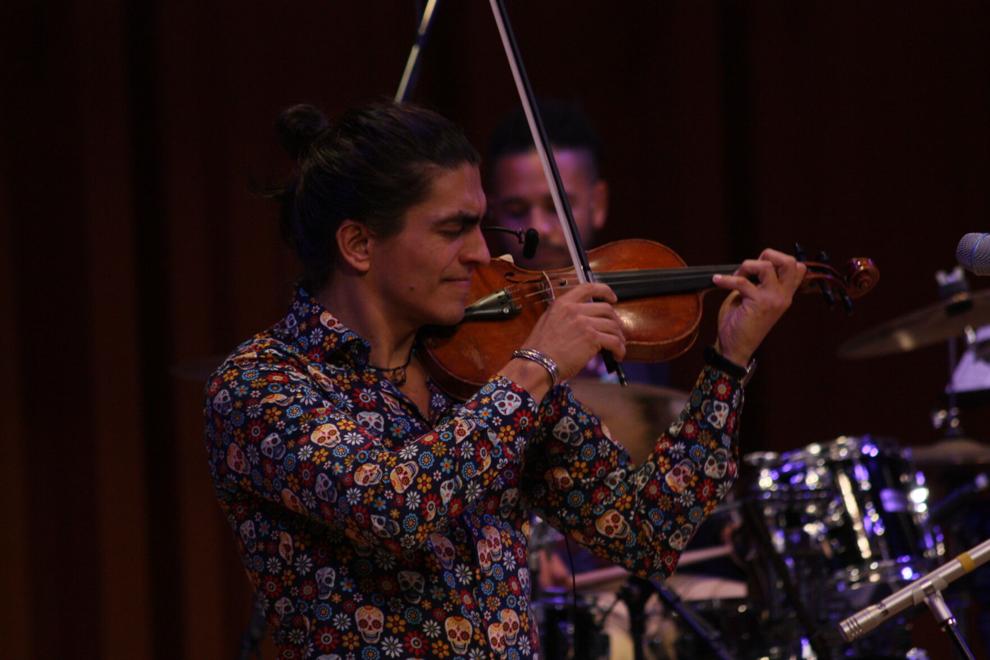 During their performance, the band not only explained traditions like Día de los Muertos, but also used their music as a platform to talk about social justice and immigration.
"For a few moments, you have the attention of the whole audience. [That's] why we also started writing music that connects with a message, trying to develop our own voice, our own way of communicating," Alberto said.
At one point on the show, Luis explained the importance of acceptance and noted that immigration issues unfortunately arise all over the world.
"I think it became an important part of our project, every time we started singing, talking about immigration, about the problems we had in those years," Alberto said.
Alberto thinks live music gives the band "an incredible power to connect directly with people". This connection was evident at the end of their performance as the Hugh Hodgson Hall was filled with onlookers who wanted the musicians' autographs, photos and CDs.
The Villalobos Brothers concert was part of the UGA Performing Arts Center's World Stage series, which aims to bring different cultures to the stage at the Hugh Hodgson Concert Hall. On November 15, the venue will host the three-time Grammy Award-winning Soweto Gospel Choir for the next part of this series.