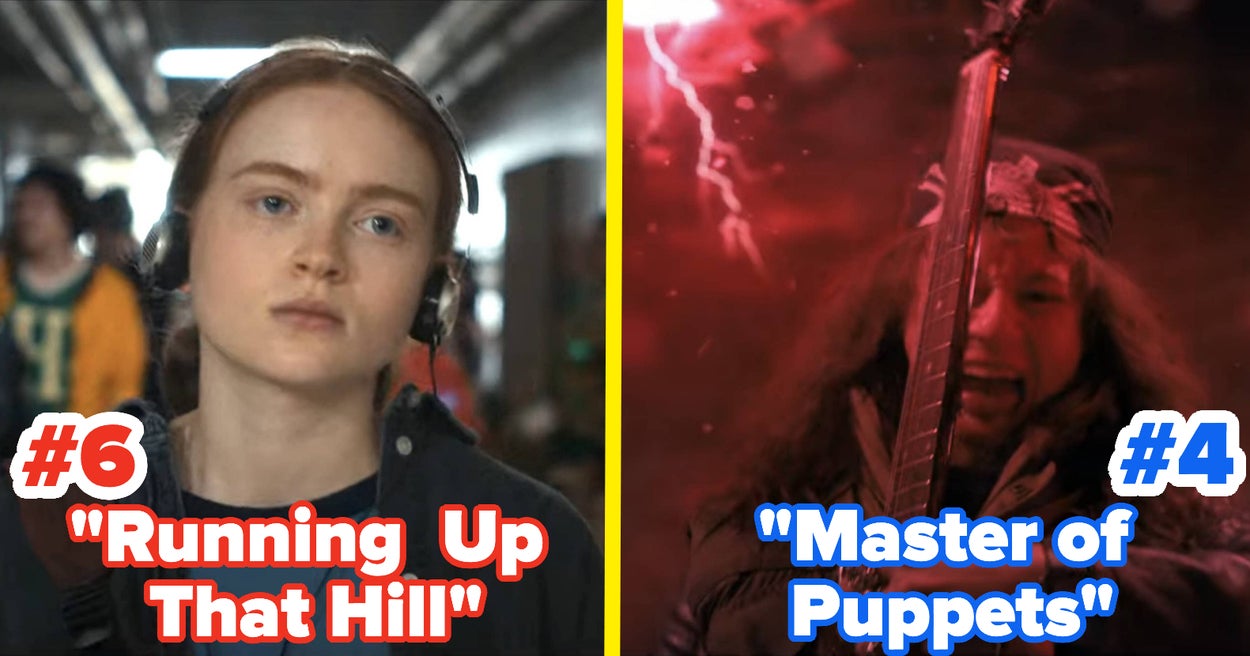 Stranger Things Season 4 Musical Moments Ranked
Oh, come on, baby. Oh, come on, honey. Let me CLASSify these moments for you now.
stranger things Season 4 had some pretty EPIC moments, and most of them were underlined by some pretty iconic 80s songs.
So I ranked all the most important musical moments of the entire season, because it simply had to be done. Let's go!
**WARNING: MAJOR, and I mean MAJOR SPOILERS AHEAD**
16.
"Travelin' Man" by Ricky Nelson
15.
"Object of My Desire" by Starpoint
14.
"Pass the Dutchie" by Musical Youth
13.
"Wipeout" by The Surfaris
12.
"Every Breath You Take" by The Police
11.
The Beach Boys' "California Dreamin'"
ten.
"Up Around the Bend" by Creedence Clearwater Revival
9.
"Detroit Rock City" door KISS
8.
"Fire and Rain" by James Taylor
seven.
"Dream A Little Dream of Me" by Ella Fitzgerald
6.
"Running Up That Hill (A Deal With God)" by Kate Bush
5.
"Apart Ways (Worlds Apart)" by Journey
I thought he was going to die.
I thought she was going to die. Then she did. :'(
I wasn't too worried about his death, but you never know!
He definitely thought he was going to die and hated being right. Whyiiiiiiiii :"'(
He was too distracted by this outfit to think he was going to die. But maybe in the back of my head.
I felt like they couldn't let her die, but they made believe maybe!!
I made prayer circles with my witch friends to make sure she didn't die. You're welcome.
And then Max bravely faces his fate. Like, what a fearless little badass.
And then it all crescendos with that last shot of the Creel house and says, "Are you ready for the finale, bitch?"
4.
Puppeteer
Max tries to escape from prison in his own mind. Reliable.
Vecna ​​looms in every fucking corner shouting "Maxiiiiiiiine". So off-putting.
Literal shitty tons of Demobats are on the move and they didn't come to play, they came to kill. But as if for real.
Oh good! Jason is here! Just what we needed!
Why not throw a horrible memory of Billy into the mix? Maybe also !
But at the end of the day, this scene was EPIC! And Eddie is an angel and a rock star, and we'll keep him in our hearts until the end of time.
3.
"Stranger Things Theme (orchestral arrangement)"
Like Karen Wheeler, who said, "I would like a bigger role in Season 5 please." And we said, "Yes, Mawmaw! Us too!" (And Holly was also there).
Erica and Lucas were giving each other knowing looks, like "How about we make peace? Lol. … But what if?"
These three took a break from their PB&J duty and I'm not sure they asked.
Dustin had a chance all to himself. Little diva.
She was furious for the flowers. Everything except the flowers.
Mike and Will showed us all that gays and straight guys really can be friends. Who knew?
Joyce and Hopper were perfect and I didn't make jokes about them because I love them too much.
And then we got this picture and we all got collectively pissed off.
2.
"Running That Hill Reprise I" by Kate Bush
None as she ran up that hill.
Or when she made a pact with God.
Ok, we can breathe again.
1.
Run Up That Hill Reprise II by Kate Bush
We were able to see Eleven pin ol' Vecs in a tree which was nice.
And I got to see this Demogorgon demo hole. (Omg I don't know if I can say this, but oops I did. Hahah.)
Hopper had a GD sword! (Which my friends were like, "Where did he get a sword??" And I was like, "From the gun locker from earlier, God am I the only one watching this show ??")
Steve, host that he is, concocted a good Molotov cocktail for Vecna.
Robin said, "Veccy-poo, do you want anotha?"
And he was like, "Yes m'am. Moar moar moar!"
And then Nancy showed us all that she's actually the main character of the show.
And no one could disagree. (Except for the people in the comments.)
And Vecna ​​fell out the window like he was Kristen Johnston in Season 6 of Sex in the city. Goodbye, girl!
Wow. What a fun time we had. We have to leave it to music supervisor, Nora Felder this season. She really did an impeccable job from start to finish. We salute you and look forward to Season 5!
Did we miss any of your favorites stranger things musical moments? Let us know in the comments!