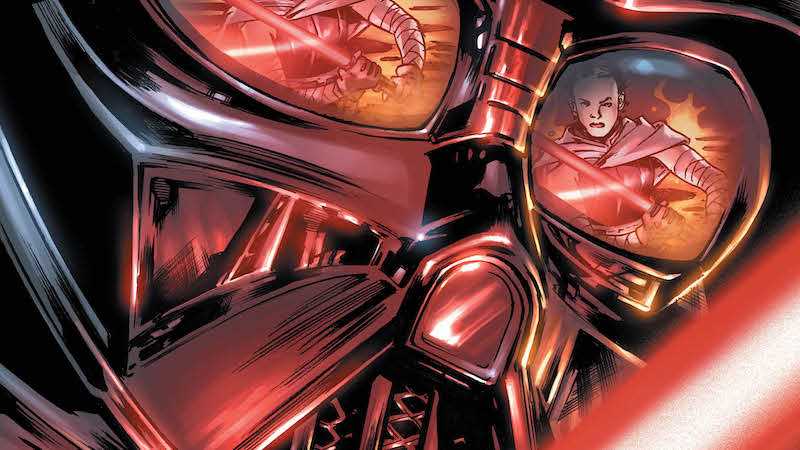 REVELATIONS #1 First Look Shows Darth Vader Meets Webbish Bog's Eye
marvel's star wars the comic series is on track for a monumental 2023 and it all kicks off November 23rd in Star Wars: Revelations #1. The giant one-shot will reveal what lies ahead in ongoing titles star wars, Star Wars: Darth Vader, Star Wars: Doctor Aphraand Star Wars: Bounty Huntersas well as the upcoming epic limited series, Star Wars: Hidden Empire.
Settled during the period after Star Wars: The Empire Strikes BackMarvel's popular line star wars comics redefined the mythos with bold sagas set during this largely uncharted time.
These stories are far from over and Star Wars: Revelations #1 will lay the groundwork for major turning points to come for these adventures that continue to head into an unpredictable future.
Written by Marc Guggenheim and illustrated by Salvador Larroca, Pere Pérez, Emma Kubert, Justin Mason and Paul Fry, the story takes place amid the infamous lava pools of Mustafar, but will take readers to all corners of the galaxy. We will join Darth Vader as he observes the very fate of the Rebellion, the Empire, Doctor Aphra and some of the most notorious bounty hunters in a vision that will cut him and his fans.
"Now we all know that the Force can be used to glimpse the present, the past and possible futures," Guggenheim tells StarWars.com. "Well, the eye [of Webbish Bog] will show Vader all of the above, including moments that will come into play in 2023 across the entire Star Wars line."
"It's our clever way of giving readers a taste of what everyone has up their sleeves for next year, but it's not a 40-page trailer. It's a true story of Star Wars with Vader in the center."
Take a first look at Star Wars: Revelations below, including Phil Noto's coverage, and keep checking SFFGazette.com for updates!