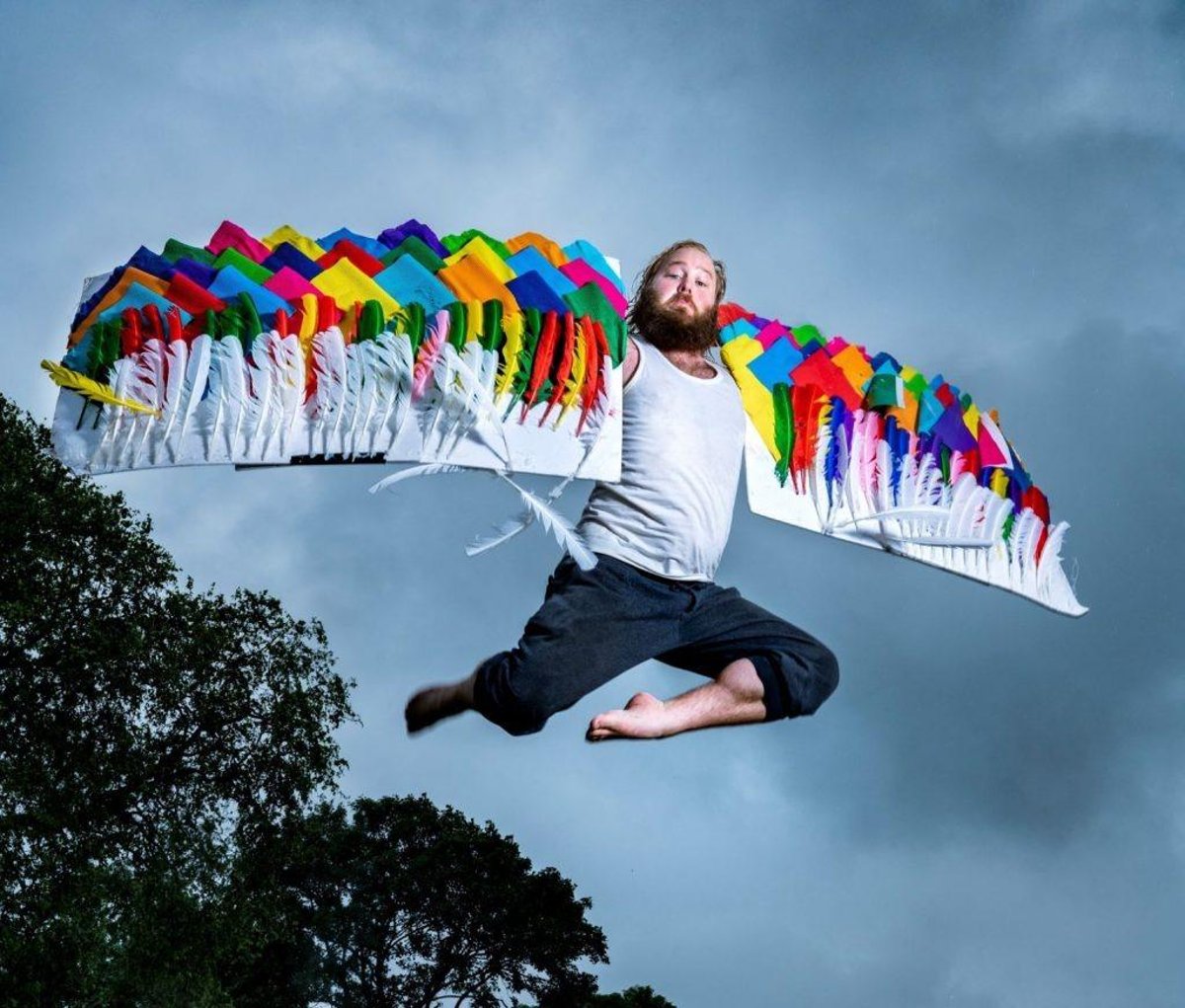 Edinburgh Fringe ticket deal: a list of all the free shows
Learn to fly at Summerhall
Until midnight Sunday, July 31, we're giving away 20,000 free Fringe tickets in association with edfest.com. Here's how to claim yours:
2) Receive your exclusive offer code by email
4) Look for one of the shows listed below
5) Choose your preferred date and – if there are still free tickets available – enter your code in the box provided. Don't miss this opportunity: all tickets are issued on a first-come, first-served basis.
The Scot/Scotland in the Sunday teams
My Leonard Cohen: Up Close and Personal
Happy Hour by Dixie Longate
Lord of the Rings to one man
Star Wars™ One-Man Trilogy
Sean Choolburra: Didj and dance!
The gods, the gods, the gods
The Return of the Mighty Kids Beatbox Comedy Show
Famous puppet death scenes
Flo & Joan: sweet release
Frank Skinner: 30 years of dirt
Americana: A Murderous Ballad
Magical Bones: magic of the soul
Reuben Kaye: The Butch is back
The Kaye Hole Hosted by Reuben Kaye
Tina del Twist: Caravan in the Sky
Jo Griffin: people person
Paul Williams: In the Moonlight
Ryan Lane will be here now in a minute
The Adventures of Sleepyhead
How I Learned What I Learned from August Wilson
Looking For Me Friend: The Music of Victoria Wood
Rachel Bradley: Beauty from the Ashes
The Oxford Revue and Other Barnyard Animals
We Are Traffic: An Uber Adventure
Dan Rath: Cockroach Party
Emmy Blotnick: The 30 Perfumes of Jennifer Lopez: A Show About Death, Betrayal and Financial Ruin
Jody Kamali: Ironing Board Man
Jonny & The Baptists: dance like nothing happened
Mrs. Roosevelt flies to London
Never Letting Go: An Unauthorized Account of James Cameron's Titanic
Sam Taunton: Yoho Diabolo
Andy Field: Ideas (,) Man
Danielle Walker: Nostalgia
How to build a wax figure
Jake Cornell and Marcia Belsky: Man and Woman
Nikki Britton: one small step
Fool Muun Komming! [BeBgWunderful/YEsyes/ Hi5.4sure.TruLuv;Spank Spank:SOfun_Grate_Times]
The Gash theater needs space
Kate Butch: Screaming Shit
Your Aunt Fanny: Muff Said
Queenz – The show with balls!
Taiwanese Season: Light of Life
We should definitely have more dancing
Jinkx Monsoon: she still has it! (with major scales)
Monski Mouse Baby Cabaret
Baby Disco Dance Hall by Monski Mouse
An evening without Kate Bush
Best of the Fest: the new class
The Idiot Circus: Death is Coming
Will Pickvance: half man half piano
Liars and Clowns: A Late Night Comedy Show
Melissa Stephens: HOT DOGS AND TEARS
Tom DeTrinis: I HATE NEW YORK
Dom Chambers: The False Wizard
Grace Petrie: Teenage Butch For Nothing
Rob Auton: The Crowd Show
Two Hearts: We are pregnant and the baby is music
Isabelle Farah: Irresponsible
Jordan Gray: Is it a bird?
Michelle Brasier: medium bear
Diane Chorley: Down the Movie
My Seven Wonders by Clive Anderson
Debra Stephenson: The Many Voices of Debra Stephenson
The Adventures of Bo Peep
Guy and his bantu american
Christopher Titus: Transporting Monsters
Dinosaurs and all that garbage
Randy Feltface: alien with extraordinary abilities
Susie McCabe: Born Believer
Lottie Platchett took a hatchet
Fred Macaulay in conversation
Best Of So you think you're funny?
Robyn Perkins: A million dollars maybe
Will Tell and the Big Bad Baron
Magic Roman's Summer Vacation
REDEEMher: How I Messed Up My Perfect Mormon Life
Kevin Flynn: Fear of HeightsR
Christy Coysh: Bangarang!
Jeena Bloom: the reunion queen
Club Valentine's Comedy Hour
The Transfiguration of Mrs. Lamen
So you think you're funny? Competition sleeves
Leah Lamarr: NFT (Nice Fucking Tits)
AAA Stand-Up Late at Gilded Balloon
Tehran Von Ghasri: will be canceled
Jon Courtenay: against all odds
Mark Thompson Spectacular Science Show
Anna Clifford: I see mortal people
Mat Ricardo: the extraordinary gentleman
Tom Crosbie: A Nerd's Vision
John Robertson: The Darkroom
Attenborough and his animals
Sex advice for straight women from a gay man
Basil Brush: Unleashed and Uncut
The nauseating prom of the 90s
Great Value Comedy Show Early
Late High Value Comedy Show
Just te Tonic's Afternoon Delight
Just Tonic's Midnight Show
Jack Gleadow: Jack's Entertainment
Biscuit Barrel: Wafering Heights
Luca Cupani: Happy Orphan
Molly Leigh-Moy & Carla Gordon: According to my previous apologies…
The Curious Incidents of the Gay in the Night
Will Preston can't face reality
Shannon Matthews The Musical
Sheraz Yousaf: the Google man
You don't have to be crazy to work here (WIP)
Joseph Parsons: equalizer
Abigail Rolling: Shit Lawyer
Anthony DeVito: My father is not Danny DeVito
How to record the best album of all time
The Halls of Ridiculous: Improvised Sketch Show
Finlay and Joe: the perpetual hype machine
Ryan Wingfield: Trophy Husband
Jim Daly: football and fatherhood
Marcel Lucont Etc. – A Chat Show
Best Scottish Comedy Award
Sugar-Coated Sisters: Bittersweet
Liam Farrelly, God's brother-in-law
Connor Burns: Live, Laugh, Hate
Set List: Comedy Sans Net
Craig Hill: I always knew I had it in me!
Aaron Simmonds: Hot Wheels
Alasdair Beckett-King: Never Again
An audience with Milly-Liu
Ania Magliano: Absolutely no worries if this is not the case
Any suggestions, doctor? The improvised parody of Doctor Who
Arthur Smith: My 75th birthday at the Edinburgh Fringe
Atsuko Okatsuka: the intruder
The Best of Edinburgh Showcase Show
Black is the color of my voice
Blodlina: The Viking Musical
Britney: friends and nothing more
Captain Jake and the Forbidden Island
Captain Zak and the Space Pirates
Charlotte Johnson: My Father and Other Lies
Christopher BlissCaptain Words Eye
Ciarán Dowd: King Rodolfo
Colin Hoult: The Death of Anna Mann
Deaf ears: how I learned to hear
Doktor Kaboom and the Wheel of Science!
Fantastically great women who changed the world
Fills Monkey: We're gonna drum you up
Fladam's musical Hootennany!
Freddie Hayes: Potato Head
Glenn Moore: Will you still need me, will you still feed me, Glenn, I'm sixty
Hal Cruttenden: It's better if you hear it from me
Helen Bauer: Madame Good Tit
Ivo Graham: My Future My Clutter
Jamie D'Souza: Stop Drawing Willies On My Poster
Jayde Adams: Men, I can save you
Josh Jones: Wasting Space
Katie Pritchard: Disco Ball
Kwame Asante: Living in Sin
Luke Kempner: Macho Macho Man
Luke Wright: The Remains of Logan Dankworth
Night Dance Floor Fillers by Luke Wright (Poems)
Marcus Brigstocke: Absolute Shower
Mark Watson: It Can't Be That
Mary Beth Barone: Silly Little Girl
Matt Forde: Clowns to my left, Jokers to the right
Mervyn Stutter's choice of bangs
Michael Akadiri: No scrub
Mind Mangler: member of the tragic circle
Baby moon dragons for children under 1
Lunar Dragon for ages 5 and under
Movin' Melvin Brown: a man, a magic, a music
My lover was a salmon in the climatic apocalypse
Nic Sampson: Marathon, 1904
Nick Helm: what have we become?
Nina Conti: The Dating Show
Njambi McGrath: Black Black
Please feel free to share
Ray Badran: sweet baby Ray
Bedroom – A bedroom of one's own
Scientific Adventures: The Mighty Pickle
Sean McLoughlin: So be it
Sex with friends (and other small disasters)
Shit-faced Shakespeare: Macbeth
Shlomo's Beatbox Adventure for Kids
Showstopper! The Improvised Musical
Sikisa: the life of the party
SK Shlomo: Breathe: the piece that becomes a rave
Smashing Shakespeare: Romeo and Juliet
Superhero Academy: Environmental Adventure!
Tessa Coates: get your Tessa coats that you pulled
The Cambridge Footlights International Tour Show 2022: are we there yet?
Lily and John's Greatest Hits
The importance of being…serious?
The man who thought he knew too much
The deputy, Aunty Mandy and me
Tiff Stevenson: Sexy Brain
Today I killed my very first bird
Victoria Melody: head game
You're Safe Until 2024: Deep Story
Yuriko Kotani: Kaiju About
A very old man with huge wings
Stop trying to be fantastic
A place that belongs to monsters
Guide to Surviving Male Territory
The girl who was good at lying
Move fast and break things
Dyra (2 per day – not per show)
Eulogy (2 per day – not per show)
Ghosts of the near future
Every word was once an animal