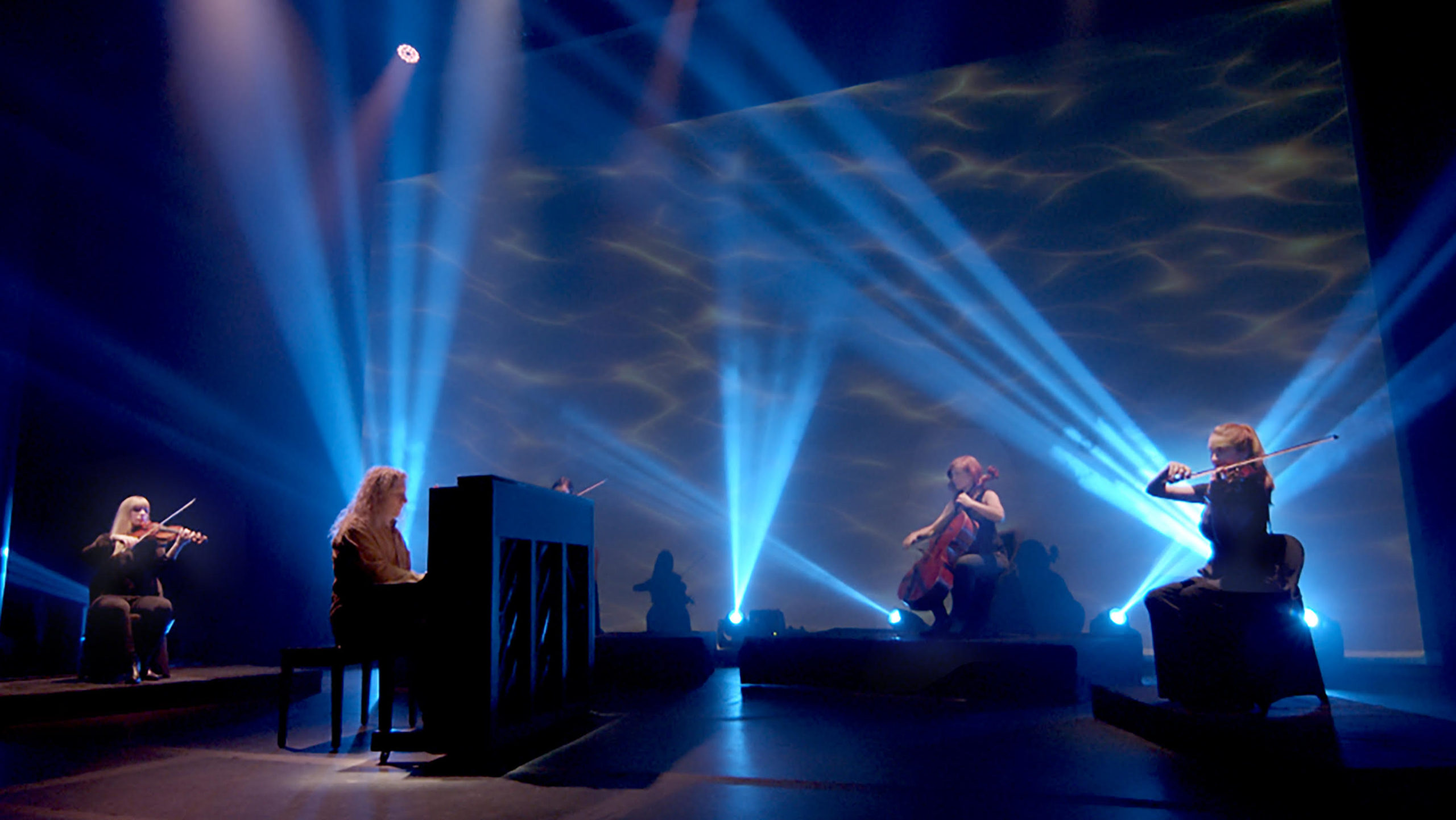 David Arkenstone weaves a story in music
Mysterious, illusory, compelling, unpredictable and haunting are the words to describe the music of David Arkenstone.
Five-time Grammy nominee, Arkenstone weaves a musical narrative of a time, place or situation as he invites the listener on an emotional symphonic journey exploring the back roads of their imagination.
Arkenstone is a music storyteller.
"Imagine if you are on a country road like in Vermont, and you go down [a hill] but then you see a road to the right," Arkenstone explained. "And it's like, 'wow, I wonder what's over there?' And you just go there – it's the same with music.
David Arkenstone in concert
David Arkenstone will perform
at the Mary D. Fisher Theater
Friday, September 2 at 7 p.m. at
"An Evening with David
Arkenstone and his friends,
debuting some of his recent
neo-classic and crossover
music with a string quartet
and percussion.
"After two or three minutes of the main theme…. I have to take it somewhere that elevates it or complements the piece. It's a habit, I guess. But most of the music I do on my albums feels more like a trip, especially if I turn left.
With precision and grace, Arkenstone's musical interpretations turn left,
surprise the audience with unexpected interludes before leading them back to the beginning – much like the hero's journey narrative archetype – where a hero goes on an adventure, learns a lesson, achieves a victory with new knowledge, then returns home transformed him.
Arkenstone linked his musical compositions to that of an artist such as a photographer or a painter.
"Photography is a bit like music. You are looking for composition; you're looking for contrast…it's the same in music or in painting," Arkenstone said. "I feel like a painter – because I'm always trying to figure out how colors go together, you know, musical colors. It's so similar, I feel like.
Arkenstone paints a musical interpretation of Native American influences, Celtic dance, medieval folklore or recreates JRR Tolkien's Middle-earth kingdom in his work. Whichever direction he takes, he composes music with extreme passion and obsession, pushing beyond euphonic boundaries.
In addition to the musical mural he paints, Arkenstone says he enjoys visiting Sedona.
"It's such a special place to play music," Arkenstone said. "Twenty years ago I played a festival in Oak Creek Canyon with several bands. I was lucky to be one of them…it was amazing to play against the rocks. It was just ridiculous. I kept turning around pinching myself.
Musical career
Throughout his career, he has created over 81 studio albums, six collaboration albums, seven compilation albums, one live album, and 17 video game soundtracks and scores. He has composed music for television, films, NBC sports, the Kentucky Derby, the British Open and Premier League Soccer, and his song "Butterfly [On the Wings of the Butterfly]is used as background music in Future World at Epcot at Walt Disney World.
Music has always been part of Arkenstone's life. He said he was born with a piano in his home. At the age of 6, his mother teaches him some notes. Subsequently, he and his brother took lessons.
"When I got to middle school and high school, I left some of my training behind, reading very complicated bits," he said. "I just started playing more by ear and making my own music. I haven't totally forgotten how to read [music]I can still read a little, but I couldn't play what I did when I was 10. But now I'm a composer so it's a bit different.
During his teenage years, Arkenstone said he discovered Tolkien's literary works, devouring every book he could find.
"I first read the books when I was 17 or 18. I was working with a landscaping company, so I remember I was just reading them on my breaks, and I was in that world – and I was there. stayed until the end of the book," he says. "It was so transformative for me. I have just identified with the world, with the characters, respect for the land runs through it. It just spoke to me and millions of people, of course, but it really spoke to me in a way that never stopped.
Earlier this year, Arkenstone revisited Middle-earth with an updated version of the "Lord of the Rings"-inspired journey of 14 original compositions, which expresses its range of music from soft orchestral to soothing soundscapes and epic cinematic anthems. This album comes almost 20 years after the release of his debut album, "Music Inspired by Middle-earth, Vol. 1."
Arkenstone said composing music visually, selecting instruments with eyes closed – guitar, keyboard, flute, pennywhistle – and experimenting with putting sounds together as a form of impressionism.
His goal, he says, "was to make music that I felt reflected how I felt about Tolkien's words and stories".
As he describes it, Arkenstone likes to take his audience on musical sound tapestries, evoking every emotion. The piano is his favorite instrument because of the range of sounds; however, he says the guitar is another favorite.
"I love playing lead guitar. I was in a lot of bands where I could just shout – there's not much more to music than that," he said. "It's really fun. And you can't get that out of the piano because none of the notes stay there. With the guitar, you can bend your notes, move them, and slide them up and down. And there are all kinds of fun things you can do. And with drums, it's a whole other emotional release that you can get from playing drums, and I'm talking more about hand drums and world drums than drumming. I love doing it all because it's a complete picture of what I love.
Achievements
At 70, Arkenstone took his music and moved it into its own category. He describes several major accomplishments, including the gig he did in Sedona and his Grammy nomination.
" It's hard to say. I did a tour 20 years ago, where we opened for Michael Crawford, who starred in the 'Phantom of the Opera'," he said. "I got to play the Hollywood Bowl, which was a highlight because I've always loved going to the Hollywood Bowl. And being on that stage was unreal to me. So that was a highlight. We played at Radio City [Music Hall].
"I did a gig in Sedona that was awesome in Oak Creek Canyon. And you know, there's so many things along the way. I remember when I got my first Grammy nomination, it was like, 'What? Anyone heard this; anyone liked it?' So that was a moment, you know, and now I have five – it doesn't get old.
Arkenstone is inspired by nature. He says he never worries about not being able to come up with a new composition, because he can just tap into the energy that nature provides.
"This is another subject that inspires me easily because if I walk in a forest or like Iceland, I see the glacier; it's so overwhelming," he said. "And nature is so overwhelming. It's a drag that people don't realize how connected we are to the Earth. There's a bit of a "wake-up" to come, which is great.
"The thing about Mother Earth that some people don't understand is that she doesn't need us to be who she is. It's great if there are people who are stewards of some parts of the territory, but we're really on the periphery," he said. "I feel like we're an ant that way. We should be a little bit respectful that we are allowed to be here. [We should] be thankful for that because, you know, the Earth will just go on.
Arkenstone says he enjoys travelling, observing nature and being part of it. He hikes Yosemite National Park every year and says, "It's awesome." He describes Sedona the same way.
"It's just an amazing place with amazing energy," he said. "And the colors of Sedona, I think, are unique. I've seen a lot of red rock in Zion Canyon in Utah and elsewhere, but Sedona has a special combination of rock colors there.
Arkenstone describes composing the music of his experiences saying, "You sit down at the piano, and it's like you're putting a few notes together and pretty soon you feel like you're illustrating something that you've been through, that just flows, I must say. And I'm lucky. I use these influences, especially travel, to try to capture a feeling that is also an emotion. But just a feeling of a place."
Arkenstone is thrilled to perform in front of an audience he says it's been too long.
"You know the audience is watching, maybe not everything you do, but you just have to focus on the song, he said. "Then realize that you're broadcasting a communication, you're broadcasting that music and they receive it – and it's not just the applause at the end of the song, but during the song, you can start to feel that subtle interaction. , but still, there's a really interesting thing going on even though it's silent. You know you're sharing…because they're there to receive your music.
Tickets for David Arkenstone and Friends can be purchased by calling (928) 282-1177 or online at www. sedonafilmfestival.org.