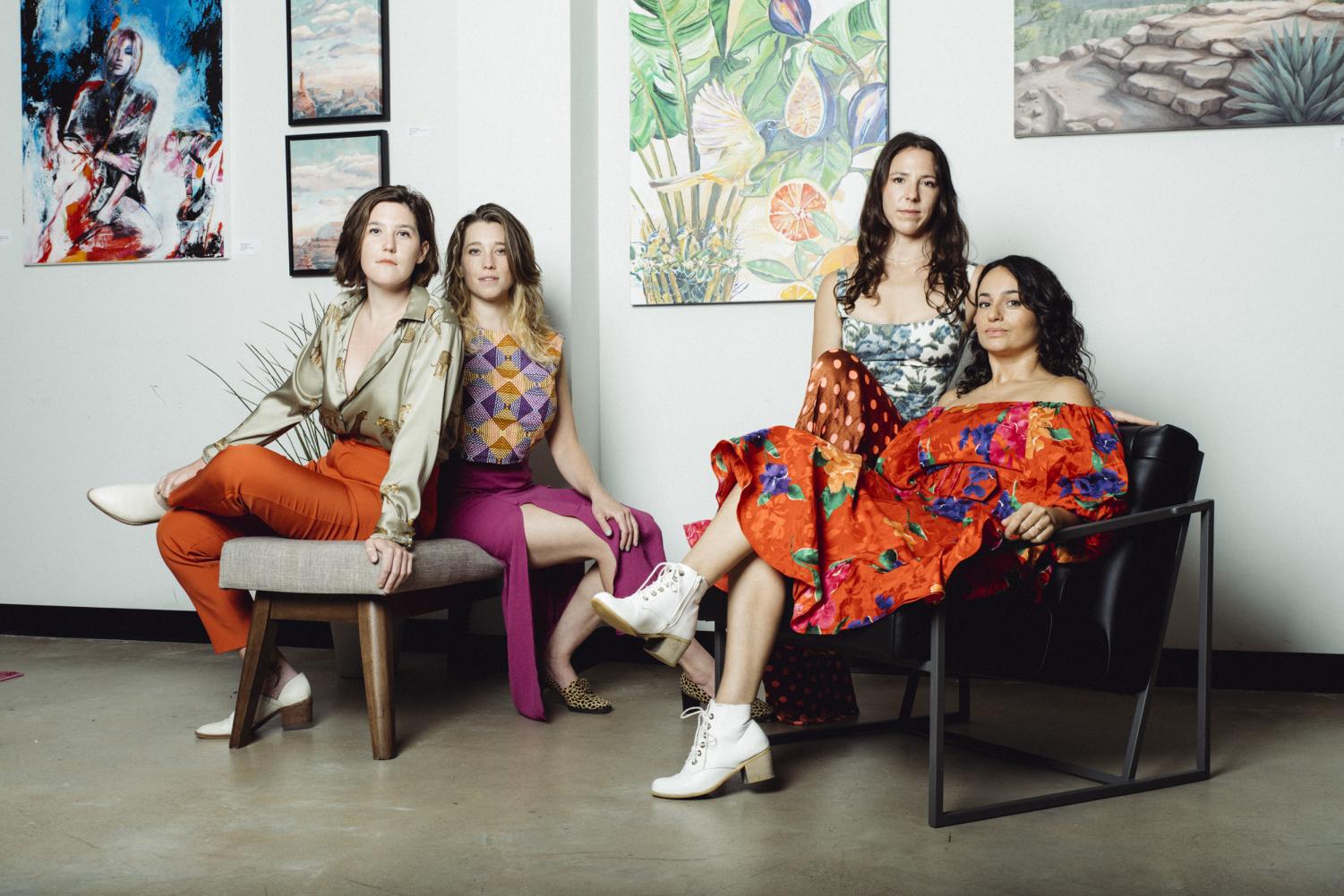 Austin-based multilingual folk group creates tapestry of music that transcends borders
Multilingual folk group Ley Line merges elements of the folk genre from many countries around the world to create a unique sound. The group performs songs in French, Spanish, English and Portuguese, often mixing multiple languages ​​and styles to create a sound tapestry that crosses oceans and transcends borders. The band are based in Austin and recently performed at 3ten on November 26th.
Ley Line is made up of four members who each bring their own styles and languages. The four women participate in vocals, with Kate Robberson on ukulele, Emilie Basez on guitar, Lydia Froncek on percussion and her sister Madeleine Froncek on double bass. The variety of instruments, languages ​​and styles means that no two songs are alike.
Their most recent album "We Saw Blue", released in 2020, was accompanied by a short film with their music associated with images of the trips the group made to Brazil as a group, which inspired the album. The album contains original songs that revolve around a theme of incorporating stories from different cultures told together.
Like their group name, which refers to a theory of interconnected landmarks across the world, "We Saw Blue" tells how the oceans once seen as a division between continents are in fact a connection. To see blue is to see the oceans as connectors rather than dividers. The album contains many songs which, while being calming, have a lot of kinetic energy that incorporate musical techniques from American folk, indie, African folk to traditional Brazilian music, such as "Respiração" and "Slow Down ".
The original short film created by the group was played before their show at 3ten Austin and featured many cultural exchanges between the group and the people they met on their recent trip to Brazil. While it was difficult to see the subtitles above the crowd, there was still a lot to be gained from the film. Most of the scenes showed the band playing music with locals at schools and other events and greatly enriched the performance.
The show was awesome. Ley Line kept the energy going, bringing the crowd a lot of life. What was amazing was how they managed to engage the audience with songs in a variety of languages ​​that many in the crowd probably didn't speak.
The group also performed their most recent single "Postcards" at the 3ten show. "Postcards" deviates a bit from the songs of "We Saw Blue" and is more like their first album "Field Notes". The single brings new elements, which may be indicative of what their new releases might look like.
Basez originally wrote the "Postcards" chords as a jazz cover of a different song. However, when she returned to Austin from her trip to California, the group decided to use the chords with a poem Robberson wrote on Basis after she left for Kenya for three months.
"She wrote this poem as a reflection of that feeling you get when people you love so deeply go on a new adventure," said Basez. "You don't know where this will take them and you miss them, but you are also celebrating this moment in a new chapter."
Later, when the group wanted to add a multilingual element, Lydia Foncek wrote the bridge in French to imitate a love song but in a platonic way. These elements together are what makes the song and the band special.
Their recent gig at 3ten Austin will be the last before their break. Basez said they wanted to take the time until the world was out of the pandemic before resuming touring; However, they will likely release singles during this time.