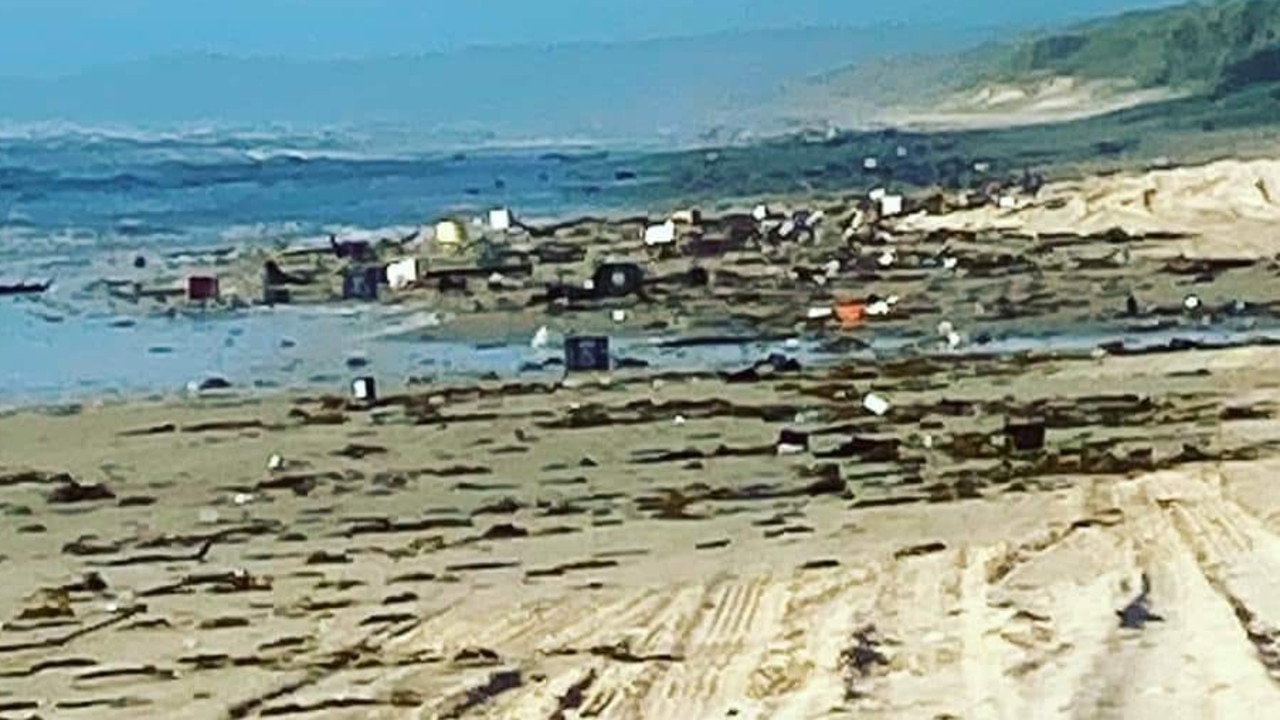 A photo from Fraser Island shows the continued impact of flooding
A heartbreaking photo of a normally pristine coastline has revealed the continuing disastrous effect of recent horrific east coast flooding.
Distressing photos of what is generally one of Australia's most pristine places have served as a stark reminder of the continued devastation caused by recent flooding.
The raging floodwaters which destroyed homes and businesses and claimed the lives of 22 people, left a huge mess in flood-affected areas but also washed huge volumes of debris out to sea.
Heartbreaking photos have surfaced this week from Queensland's scenic Fraser Island, also known as K'gari, which has soaked up tons of soggy debris from flooding in Brisbane.
The local community has begged for help from the rest of the country as they desperately try to clean up the "absolutely heartbreaking" mess.
Thousands of beached items were shown in a photo shared to Facebook by cleanup group Ocean Crusaders on Wednesday, leaving thousands in shock.
The photo showed what looked like hundreds of broken pieces of furniture, likely inside the homes and businesses of mainlanders.
"K'gari gets hammered by Brisbane debris. If you can volunteer for a few days and make it to Inskip Point, Hana of K'gari Fraser Island Adventures is coordinating community cleanup efforts," reads the group's post.
"It is happening now. We would already be there but dealing with the source still here in South East Queensland. If you can't help in person, consider contributing to our fundraiser so we can support those who make a difference.
According to one respondent, a large group of volunteers went to the same beach over the weekend and cleared it of "eight million rubbish".
They described the scene as "absolutely heartbreaking".
Hundreds of people who saw the photo commented expressing their desire to help overcome the crisis, which the group said was the worst between Dili Village and Poyungan Rocks.
Following the huge response, a representative from Ocean Crusaders said buses were being organized to bring people from the mainland for the weekend.
Residents of Bribie Island, about 300 km to the south, reported similar scenes on their beaches.
"There are whole pontoons and other big stuff. The volume of garbage was unbelievable here on Bribie. I imagine they have the same thing," one person wrote.
Brisbane residents have been encouraged to carry out their own local cleanups along rivers and beach shores as far north as possible.
Swathes of Brisbane, Ipswich, Gympie, Gold Coast, Sunshine Coast face billions of dollars in damage after months of rain in southeast Queensland destroying homes and livelihoods.
Maj. Gen. Ellwood was appointed as the state's flood recovery coordinator to help with the cleanup effort.